OKR Vs MBO-PMS
Differences?
Objectives and Key Results (OKR)
History of OKR: In 1975, John Doerr, at Intel, attended a course by Andy Grove where he was introduced to the theory of OKRs, then called "iMBOs" for "Intel Management by Objectives". In 1999, Doerr, introduced the idea of OKRs to a start-up Kleiner Perkins had invested in
. Doerr published Measure What Matters in 2017. Larry Page, the CEO of Alphabet and co-founder of
, credited OKRs within the foreword to Doerr's book: "OKRs have helped lead us to 10× growth. Since becoming popular at
, OKRs have found favor with several other similar tech start-up organizations including

,

,

, and

. - Ref:

Wikipedia ©

Conversations, Feedback and Recognition (CFR) and OKRs together provide a clear path to setting and achieving the most inspired to the most trivial goals businesses and teams pursue. OKR Stars™ software integrates with CFR approach, tools, apps

(Microsoft Teams

and Slack

) to Automate Team Collaboration on Goals.
Our mission is to galvanize leaders to set and achieve audacious goals—through inspiration, education, and application.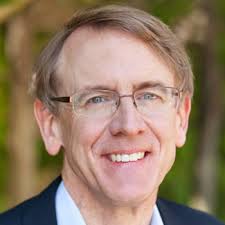 John Doerr
Co-Founder & Publisher, © What Matters
Ref. Measure What Matters, World's 1st & #1 Book on OKRs